If you are a web designer or a web developer you already know that HTML is the base of websites, that the programming languages and the web technologies use this in order to show all kind of information over the internet (from text to images, from video to games and everything else). If you are not in the business of designing or developing websites (but you want to start and that's why you are here) you may not already know that HTML was the invention of the W3 group in the early days of the internet, when the world wide web was launched. That happened ages ago, in the beginning of the 1990s, and getting information from online was clunky and could be done only by the ones that understood and learned to maneuver the command lines for sending and receiving the data. Since then the dynamic HTML, CSS (cascading style sheets) and XML were developed and they made possible all the online operations we find today casual and common. A seed ascends around the turntable.
One of the biggest changes announced in the last months is HTML5 (the fifth update of the first code), it's considered the new language for presenting the content on the Internet. It's still in development and it's going to be released in 2012. HTML5 brings new features that make easy for the developers to incorporate video, audio, fonts, web grafics and animation, drag and drop functions into their web pages, it's also backwards to previous updates of HTML so you shouldn't worry about the existing websites - you don't have to redesign them to match the new standard. jQuery has started killing Flash because of its animation and new features of Javascript, it is said that HTML5 will finish the job for sure and, as a web designer, I believe it.
This tool help you compress the images and to put them into a format called "sprite" in order to increase the speed of your image transition and decrease the loading time of the pages. You can create images in sprite format with jQuery, CSS3 and HTML5 tool.
This tool uses the HTML Canvas to create 3D drawing, 3D images that rotate, vibrate and that can have dashed line elements. To rotate the canvas in 3D you need to hold down SPACE and then DRAG horizontally with your cursor.
As a web designer, from time to time, I had problems meeting my customer's request about specific fonts they loved. Using this tool will solve the problem by allowing a developer to test custom fonts online for any web page without changing any HTML and CSS code.
JayWeeks and this online velocity sketch, a HTML5 canvas drawing tool which you can create strange looking things. Use it, you'll love the results and you'll want to use it more in the future.
Everyone need a pattern generator tool for some things or another, usually for the backgrounds for websites (from my point of view). This tool uses the HTML5 canvas to provide you a pattern in seconds.
Using this tool you can view the details of the page elements for any webpage. The Firebug does a similar thing, but I don't know (yet) how it's handling HTML5 elements such as canvas to provide the design information needed (as this tool does).
Automatoon is pure HTML5 and it's used for animation. There is no Flash used in HTML5, so your animations will play just fine on all common web browsers and all the devices like iPhones, iPads, Nokia (with Meebo) and ones that have Android operating system installed.
With the introduction of audio tag in HTML5 we will see more and more websited using the audio, even if most of the current Internet users avoid the sites with this option (unless it's about dedicated sites for audio and video). This online audio maker tool can help you introduce to the new audio features of HTML5.
Most vector art packages can export the users' work as SVG (Scalable Vector Graphics) files and with this tool you can convert the SVG file into it's HTML5 canvas equivalent.
As a conclusion you can always check the standard and updates HTML5 at W3schools, that's the place where you can learn the most about the latest and the correct way to design websites. The arrival will be the HTML5 will be the standard for everthing that is HTML and XHTML.
Details

Category: Blog
I am sure you all want that your website would have a lot of traffic, you want to be known and wanted (or even admired) for what you are doing and what you are selling. A good or huge traffic is also good for business - even if you are not selling anything you can make good money from online advertisement.
I am not going to tell you some bulletproof methods to boost your traffic over night, but you can get that boost for short periods of time. I am telling you three things that work every time and in almost any situations (as long there is no problem with the website itself or the content):
what I've already told you about SEO is perfect for improving your traffic. That means that your webpage should be fully optimized for the search engines (with the metatags, title, h1 to h6 tags, URLs and everything else), it should have unique content and targeted to specific subjects, you should choose interesting and catchy titles, and so on.
you should post the URLs, their titles and a short description (if it is possible) to the highly visited places over the internet. Their traffic could improve your traffic once the visitors see your titles and consider them interesting to access.
never give up. The statistics say you will almost never get the desired results from the beginning. I steady high traffic for your website can be obtain only by hard work promoting that website as good as you can.
I must remind you that if you "overdo" the SEO (when you use black hats methods or you use too many elements of on-page SEO with few or no content) sooner or later you will be penalized or banned by the search engines.
The list of the highly visited places over the internet is very long, I'll try to give you some examples I know that have valid results. Social networks always works, but you already know that: you have opened at least few titles shared by your friends until now. You might not realize that their links were a way to improve the traffic, but it's true. So, use Twitter, use Facebook - they are well known, they have millions and millions of user logging in every day. Hi5 was a big hit some time ago, but lately it's not so important.
Aggregators like Tehnorati, Digg, Stumbleupon and Reddit are also great for boosting your traffic. Don't rush into getting too many backlinks over there, even if they are letting you (in some reasonable limits)... you might get penalized.
Write articles and post them on websites like GoArticles and EnzineArticles and backlinking them to your site will not boost your traffic at once, but they will get you some steady traffic in time.
As I said, don't give up. No matter how much time it will take you to get your desired traffic on your site you will get it. You can do it yourself or get help.
Details

Category: Blog
One's presence over internet, as an individual or a business, is in part defined by the domains he or she is using to post articles, products and/or services. An appropriate domain name will boost your traffic and your popularity, it may become a trademark if it wasn't already before you have started the online activity. So you have to consider your domain name as assets you must protect and to improve their values in time.
There are a lot of possible reasons people may loose their online domains, some are very common, some are not so often related with every day practice.
You can lose visitors and customers because of typo domain names
As I've written some time ago on a websited related with web design, you should reserve different but similar domain names for your business. The reason is simple: when information is being transmited from one person to another there can always appear errors, people may mispell or type with errors the name of your site. If the domain name have digits or words separated by hyphens reserve a domain name similar: with the same words, but no hyphens and with the digits as letters.
It does not look that you are protecting the domain name in this way, but in order you have one famous domain with a great working website you must cover all the field, not to let anyone take advantage by your work and ideas.
You can lose your domain name if you delay to make or renew the registration
Some TLD allow you to register your domain name for life, so you don't have the problem with the renewal. But if you decide to register a name for you domain and you delay it too much some one else can do it first. The same thing can happen if your domain name expires and you delay the renewal. It does not cost much, but you have to protect you domains: no website, no business. No business, no money, no reputation.
A few years ago when high profile movies where annouced at Hollywood some people did hurry to registrate the domain names for those movies and they tried to sell them later to the production companies. But lately the production companies learned from their mistakes and started reserving the domain names before announcing the movies.
Use privacy when register or renew a domain name
The whois records can be accessed by everyone that knows where to search. When registering or renew a domain you have the option to let the information public (and everybody will see them) or private (and only you and the registrar will know about the domain owner identity). The difference in price is only a few american dollars (the privacy costs). If you let the information public every hacker or bad person can contact you or can try to impersonate you in order to take your domain.
If your domain is just a startup or not so important you may not care so much, but when you put a lot of energy and money in the development of your website you may be hurt.
Safeguard your domain name against theft
Also during the registrering or renewal you can have registrar lock activated. This will lock the domain name making it impossible to be stolen unless you log into your account and unlock it. It can happen that hackers can hijack an unprotected domain without the owner's knowledge, disrupting the website.
Protect the access to your registar with a strong password and ensure your full control over your domain name
The most direct way to hijack and misuse a domain name is to access the registar and modify the registration account. It's not easy as the registering domains are protected against attacks, but you consider your own protection against such things: use a strong password to protect the access to your registar. For that you can include numbers and special characters, lower and upper characters in the password.
In some cases (depending of the TLD), the registrant and the admin contact can make changes to the ownership information for a domain name. Under some circumstances the technical contact may also be able to make some changes to the information if the admin does not respond questioning a requested change.
Details

Category: Blog
I've heard some time ago that one guy was searching for his keys and he couldn't find the anywere. Finally, annoyed to hell, he used Google to search "my fucking keys".
The response was very well search engine optimized:
"Your fucking keys are on the refrigerator, where you let them, deepshit!".
We can not offer you that, not yet, but we are on the right way to that.
Husband searching keywords on Google "How to tackle wife?" Google's only search result "still searching".
Meanwhile, if the next image does not very much meaning for you it's OK: it's designed for the search engines… and, implicitly, to all the Google vans that might go by.
Details

Category: Blog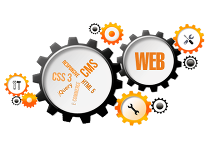 We create websites to present your activity to the world and applications for internet that help you organize your activity as eficient as possible and without loses (in money, time and energy) whatever you are while you are online. You only need an internet domain, space on a server and the app we develop for you.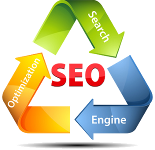 The search engine optimisation part is very important for websites - they have to match certain criteria in order to appear as often as possible in the search results. We analize your website and we offer consultancy about the options you have about to boost its visibility and organic traffic.
We develop applications for various companies and organisations according to their specifications and requirements in order to be used by employees and partners to work more efficient, making the transition from excel files and spreadsheets used before to the internet of things. We offer support for the applications used now and we develop them further using modern technologies.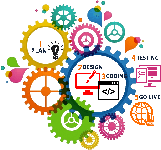 We offer consultancy about the informatic system you have installed and we offer sollutions to make the more efficient, to improve and develop them further, we analize the activities inside your company and / organisation and we offer sollutions for the projects you want to develop.
You could also take a look over here
Contact:
Supravirtual SRL - CIF 17836150
J05/1657/2005
Str. G-ral Gheorghe Magheru 5 Oradea, Bihor, România
+40743-539.203